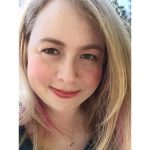 Description
Marjorie Halloran, originally from the San Francisco Bay Area, is a synesthetic composer, songwriter, and performer. Her choral music blends together smooth and memorable melodic lines, lush harmonies and textures, and the occasional abrupt change in time signature or key, just to keep things interesting. She holds her MFA in composition with an emphasis in songwriting from Vermont College of Fine Arts (VFCA), as well as a BA in music theory/composition from the University of California at Davis. She is the co-founder and coordinator of the VCFA Choral Workshop, a program for graduate students interested in learning choral composition.
An accomplished choral singer in addition to composer, Marjorie has performed with many different ensembles in California, New Jersey, New York, and Texas, where she currently sings with and writes for Chorus Austin and Inversion Ensemble. Her compositional accolades include being the winner of the 2016 WomenSing "Youth Inspiring Youth" choral composition competition, a finalist for the I Kromatika composition competition in 2015, and a semi-finalist for the American Prize in Composition (choral division) in both 2018 and 2022. Marjorie released her debut pop album, Ready For Anything, in 2015, featuring a variety of songs written during her studies at VCFA, and has released a variety of EPs on her Bandcamp site (marjoriehalloran.bandcamp.com). She currently resides in Austin, TX, while continuing her work with VCFA as the Program Assistant for the Music Composition program.
Her favorite symphony is Robert Schumann's 2nd, and her favorite instrument beyond voice is the viola. She loves the color yellow, biodegradable glitter, peanut butter, cocoa with mint, chords in first inversion, The Little Mermaid, and reading alto clef. She has a husband, an orange cat, and an obsession with rainbows, and her favorite Pokémon are Pikachu and Koffing. She has been to 50 states and 5 continents. Once, she camped in Antarctica.