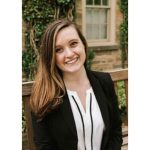 Description
Emma is a conductor, composer, and singer based in New York City. She is the Music Director of Philomusica Concert Choir, a 30-voice, auditioned choral ensemble, and a founding member of Triad: Boston's Choral Collective, an organization made up of singers, composers, and conductors who share artistic responsibility and perform new music. Today, she sings, conducts, and composes with C4: the Choral Composer/Conductor Collective in NYC, the choir after which Triad was modeled. She also sings soprano in the choir at the Church of St. Mary the Virgin in Times Square. Emma has most recently served as Choral Instructor at King School in Stamford, CT as well as Pre-K-8 Music Instructor at Horizons, Norwalk Community College, assistant conductor of Lyric Opera of Chicago's Children's Chorus for its 2020 production of Tchaikovsky's Queen of Spades, and conductor at Chicago Sinai Congregation.
Emma's compositions have been performed by Triad: Boston's Choral Collective, Westminster Chapel Choir, Tufts Chamber Singers, and other college, synagogue, and church choirs from Boston to Los Angeles. As a vocalist, she has performed both solo and ensemble work in the Midwest and on the East Coast, including with St. Matthew's Episcopal Church in Wilton, CT, St. James Cathedral Choir of Chicago, Philadelphia Symphonic Choir, Princeton Society of Musical Amateurs, and Hans Zimmer Live US Tour. She grew up singing with the Chicago Children's Choir, an organization born out of the Civil Rights Movement, dedicated to creating a better world through connecting singers of different backgrounds and experiences to create music. This worldview has shaped her as a musician today.
Emma holds a Master of Music in Choral Conducting from Westminster Choir College in Princeton, NJ and a Bachelor of Arts in Music from Tufts University in Medford, MA.