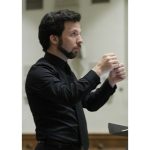 Description
Alexander Boostrom grew up in Evansville, Indiana, studying piano with Dr. Karen Taylor at Indiana University. With an interest in composition, he wrote several pieces while learning about music through score study and aural experiences. One of the pieces, his first work for full orchestra, was entered into a composition competition in his junior year in high school. The piece was entered into the National Federation of Music Clubs and made it all the way to nationals.
Alexander went to Lawrence University for his undergraduate degree. In 2009, he graduated with a Bachelor's of Music in Piano Performance. Despite focusing mainly on piano during this time (studying with Anthony Padilla), he took every opportunity to enhance his compositional skill. He studied with Joanne Metcalf, John Benson, David Dies, and the late Jennifer Fitzgerald. He also took classes like counterpoint, spending his free time reading through orchestration books and treatises.
It was during this time that Alexander realized his fascination with film scoring. He discovered Richard Wagner's concept of gesamtkunstwerke, a synthesis of all the arts. This greatly influenced Alexander's insight into the potential of music. He saw movies as an attempt to unify the visual with the aural especially in the work of such film composers as Bernard Herrmann, Jerry Goldsmith, Alfred Newman, John Williams, Danny Elfman, Randy Newman, and Thomas Newman.
Upon graduation from Lawrence University, Alexander spent a couple of years growing as a composer while studying with Dr. Theresa Martin. In 2012, Alexander began his Masters in Music Composition at the University of Florida. While there, Alexander worked with Drs. Paul Richards, Paul Koonce, and James Paul Sain. Alexander also had the opportunity to teach music theory classes as part of his assistantship. Music theory was always a passion for Alexander, but helping others learn to further appreciate the structure of music was a thrilling experience. With that knowledge, students could find beauty and understanding in much more music. Also during this time, Alexander was the music director at the Unitarian Universalist Fellowship of Gainesville. Alexander loved the position of music director for many of the same reasons he loved teaching music theory, helping others to appreciate and love music in ways never before conceived.
In 2014, Alexander graduated from the University of Florida and moved to New York City, where he worked for All Saints' Episcopal Church in Sunnyside, Queens while simultaneously running a free, monthly concert series. During this time, Alexander gained choral experience with Choral Chameleon under the direction of Vince Peterson and began voice lessons with Noel Crawford, accomplished singer and pedagogue.
In 2016, moving on to greater opportunities, Alexander began working at St. John's Episcopal Church and started singing in the Canticum Novum Singers under the direction of Harold Rosenbaum. Under Rosenbaum's tutelage, Alexander became the assistant conductor for the Canticum Novum Singers and conducted pieces for multiple concerts. Alexander also joined Khorikos under the direction of Alec Galambos and C4, the choral collective. While in C4, Alexander has conducted the ensemble as well as composed music performed by the ensemble.
Photo: Harold Levine
https://www.youtube.com/user/AlexanderBoostrom